What do a rooster, a bad actor and a grocer have in common?
From 1867 to just before World War I, Mr Isaac Israel conducted a business selling miscellaneous goods directly to the people of Sydney and by mail order to those in NSW rural areas.  In the heady days of the late 19th century, he described his business as an "emporium", denoting a large retail store selling a wide variety of goods.  Whilst in 2021 we prefer the expression "Department Store", in 1895, "Emporium" was the preferred term for a cornucopia of goods available under the one roof
Isaac's early years at Petticoat Lane, Whitechapel
Isaac Israel birth was registered at Whitechapel London in the fourth quarter of 1838. The English census returns for June 1841 and March 1851 show that he was the second son of Moses Israel, a marine store dealer, later turned butcher, and his wife Amelia (nee Woolf). The family lived from at least 1841 in the heart of old east London, at 18 Petticoat Lane (now Middlesex Street) Whitechapel. Even in those days 'Petticote Lane' was famous – or infamous – for its multifarious street markets, so young Isaac would have grown up absorbing how to become a successful trader.
He is also recorded as being in England at the time of the 1861 census, still at 18 Petticoat Lane with his father Moses, mother Amelia and his three brothers and four sisters.  In this census, Isaac's age is given as 23 and his occupation is described as "Traveller".  There is, however, a record of an Isaac Israel age 18, occupation butcher, arriving on the Charlemagne at Port Phillip, Victoria in May 1857. 1 In early 1857 he would have been 18 years old, so the age certainly fits. According to his obituary written in 1909, he had come to Australia over 50 years previously2 and travelled to various states of Australia and New Zealand before settling in Sydney. 3.
Gone but not forgotten?
If Isaac was still in Australia, what could have been the explanation for his inclusion in the Israel family returns for the 1861 England census?  After further investigation, it transpired that 57 year old Moses Israel had not only listed his 'traveller' son Isaac in the Petticoat Lane census return, but also Isaac's elder siblings Samuel and Elizabeth, both of whom were by then married with children and living in their own homes, from whence they had provided their own household Census returns. Perhaps the fact that Moses was slightly in error in giving Isaac's age as 23, when it would have still been 22 in April 1861, was because Isaac wasn't there to correct him!
'Gone but not forgotten' was obviously a sentiment concerning their children that was taken very seriously in the Moses Israel household!
'Bonus T Warehouse' and many other emporiums
Isaac established his 'Bonus T Warehouse' at 14 Goulburn Street, Sydney in 1867, calculated on his advertisement dated 3 November 1894, proclaiming that they had been established 27 years.  In 1869, the Sands Directory shows Henry Field at 14 Goulburn Street. The next year Isaac Israel is listed instead at 14 Goulburn St. (This means he was at the address from about 1868 or 1869. See our post on the Sands Directory, which explains why the printed Directory lagged the collection of names and addresses by about one year.
There are hundreds of thousands of references to one or other 'emporium' in the NSW newspapers between 1850 and 1920.  Israel's Emporium was only one of the many in NSW at the turn of the 20th century.
These included Anthony Hordern & Sons Palace Emporium advertised in the Sydney Morning Herald on 3 April 1895: We clothe the people! We feed the people! We furnish their houses …
THE PALACE OF THE PEOPLE. Anthony Hordern & Sons had a trademark of an oak tree with the motto, While I Live I'll Grow.
Washington H Soul & Co, now an Australian investment company, began as a pharmacy. They advertised on 23 May 1895 in the Sydney Morning Herald, page 7: Hot Soda Fountains in full swing, and delicious beverages dispensed, viz., coffee, tea, chocolate, 3d per mug, at the Pitt Street Drug Emporium. (Hot soda fountains?)
Not to be outdone, Nathan Herman advertised in the Sydney Morning Herald of 8 June 1895, Mammoth Emporium open … on Saturdays until 9 pm. The Mammoth Emporium was at 9 Wynyard Street, Sydney.
The 'emporium' concept was not confined to clothes, food and furniture. Frank A Hart advertised his Music Emporium on 14 September 1895 in the Sydney Morning Herald, page 2: for music that is new and popular and every description of musical instruments…
The emporium found its way to rural towns. In Broken Hill the term 'emporium' was used for just about every sort of store – clothes, furniture, food … everything. For example, the Barrier Miner of 22 September 1891 on page 3 was advertised: AA Brice & Co., Produce Emporium's sales of vegetables on Mondays; pork, butter, eggs, bacon and cheese on Tuesdays; and vegetables and pork etc., on Fridays.  The next day the Barrier Miner advertised on page 1 White's Furniture Emporium: PICTURES! PICTURES! JUST ARRIVED the LARGEST, CHEAPEST and BEST assortment ever seen on the Barrier … Also, WHATNOTS from 15s.
The suburbs also had their fair share of emporia. One example in the Sydney suburbs is Dudley's Emporium, which is on the corner of Anzac Parade and Maroubra Road, Maroubra. The Emporium is long gone. The building still stands. On 24 May 1913 an article appeared in Sydney newspaper The Sun: MAROUBRA; THE DAWN OF A GREAT DISTRICT. Enterprise of a Suburb-Builder and His Son it proclaimed. 4
Dudley's motto was "Watch Maroubra Grow". Herbert J Dudley's obituary published in The Daily Telegraph of 10 December 1927 on page 12 says that in earlier days he was associated with Farmer & Co., Ltd (a retail store). After opening up Dudley's Emporium, he commenced business in real estate.
Back in Sydney, Israel's Emporium was amongst the fierce competition.  On 18 December 1895, Israel's Emporium is discussed in the Evening News (Sydney), on page 3. We would describe it as an "advertorial" in these enlightened times. It was about the sheer enjoyment one would experience in shopping at Israel's Emporium on the corner of Sussex and Goulburn Streets. Mr Israel, it said, had been in business for over a quarter of a century. The advertorial went on to say that Mr Israel was having a splendid season, as well as the country orders, of which vast quantities are daily despatched. The genial proprietor declares he is worked almost to death. His popularity is obtained by having one's goods both first class and cheap. And so on.
Mr Israel's motto was "While I live I'll crow". It was accompanied by a picture of a rooster. He had registered the rooster and the motto as a trademark in the NSW Government Gazette of 31 July 1890. In NSW this secured in New South Wales his exclusive use of the motto "While I live I'll crow!" and the rooster logo.
The motto has a twofold thrust.  One angle is that it was a play on the words of Anthony Hordern & Sons' motto, "While I Live I'll Grow"; whilst another angle is that it harks back to the famously bad London actor, Robert Coates (1772-1848), whose motto was the same as Mr Israel's "While I live I'll crow".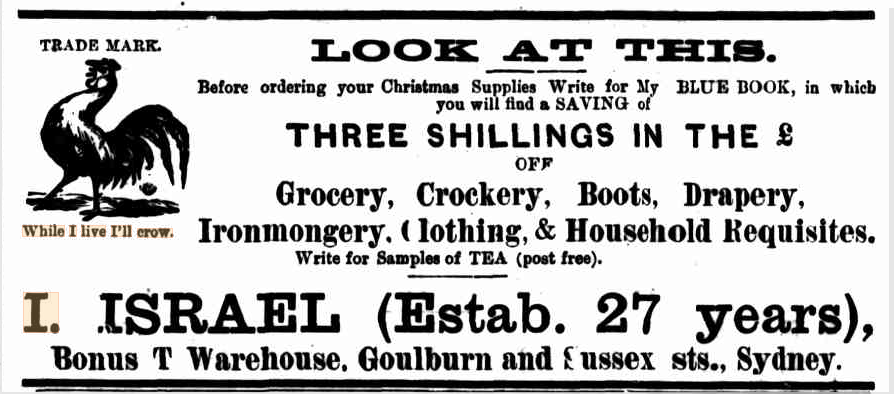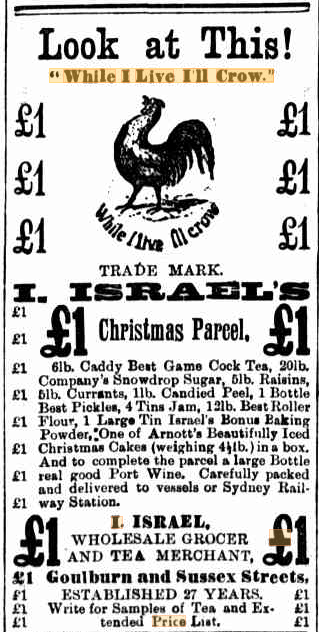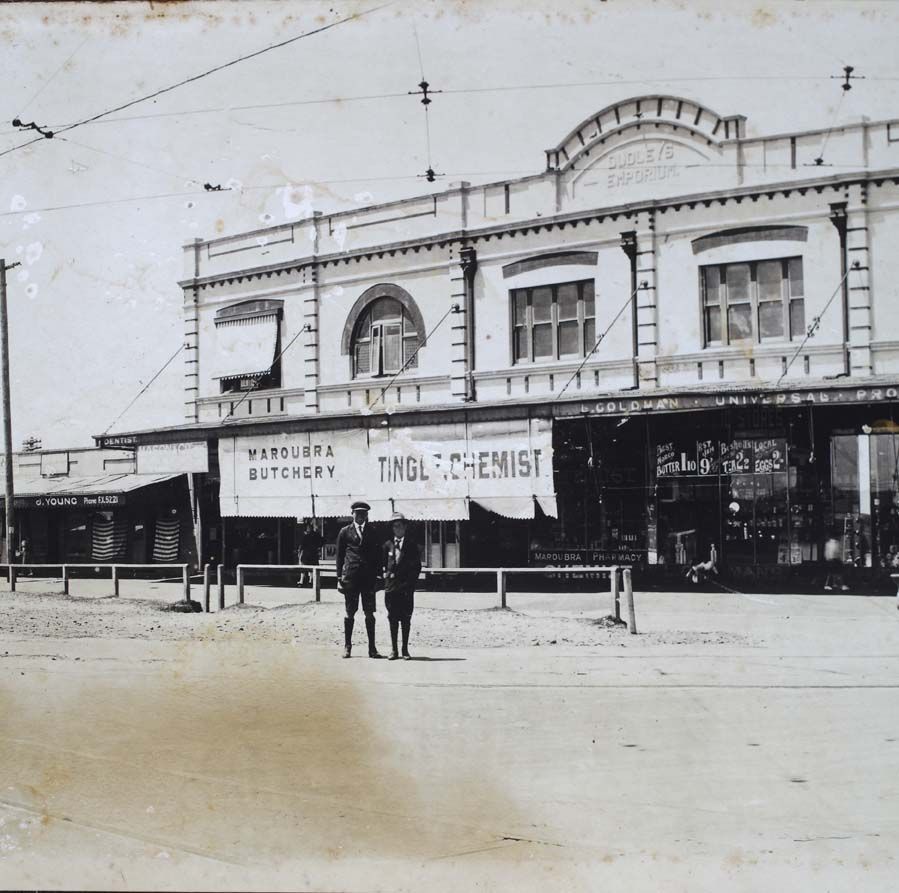 Robert Coates, a bad actor with a rooster on his carriage
Robert Coates was variously nick-named "Romeo", "Curracle" and "Diamond", and was a dashing figure from the Regency Era. Born in Antigua in 1772, he was the son of wealthy slave plantation owners. He inherited a considerable fortune, along with some very fine diamonds, providing him with ample money, allowing him to move to England and live the high life.  He had a carriage in the shape of a scallop shell; the outside bore its owner's heraldic device – a life-size cock, with outspread wings, and over this was the motto, "While I live, I'll crow". He settled in the fashionable watering-place of Bath. While in Bath, Coates's passion for the stage became known, and he was encouraged by locals to pursue acting. Because of their encouragement, he made his debut on 9 February 1810, in the Shakespearean play "Romeo and Juliet" at Bath's Theatre Royal. Unfortunately, his performance was ludicrous and ridiculous. Still, the first few acts went well until some unhappy audience members started heckling him: They threw orange and apple peels onto the stage and cried "Off! Off!" Coates was unfazed and carried on. Later in the play, he carried a crowbar into Juliet's tomb. That was too much even for the manager, and he lowered the curtain on Coates for good.
Neither Coates' failure on stage nor his amateur status as an actor, stopped him from acting. He continued to play Romeo roles. When he found managers unwilling to let him act, he was not above bribing them, which he did frequently. He also thought himself a superb and talented actor despite forgetting lines, creating dialogue on the spot, and repeating death scenes, or scenes that he liked, over and over — two, three, or even four times in a row. Fortunately for him, most audiences remained indulgent and tolerated his poor acting abilities.
Nevertheless, Coates was famous! When his fame reached its zenith more than a thousand people were turned away from the box office at the Haymarket Theatre, in London's West End, and fans besieged the stage door in their hundreds. The audiences at these productions were lively bordering on violent and behaved as if they were in a bear-baiting pit. There was constant whistling, shouting and catcalls, as well as full-throated barnyard sounds of 'cock-a-doodle-doo' in homage to the actor's crest. Death scenes were particularly popular, and the Gifted Amateur was often obliged to perform encores in which he died again and again.The
Coates died on 16 February 1848 when a careless hansom cab driver crushed him between the hansom cab and his own carriage. Coates was knocked down and run over in the process.5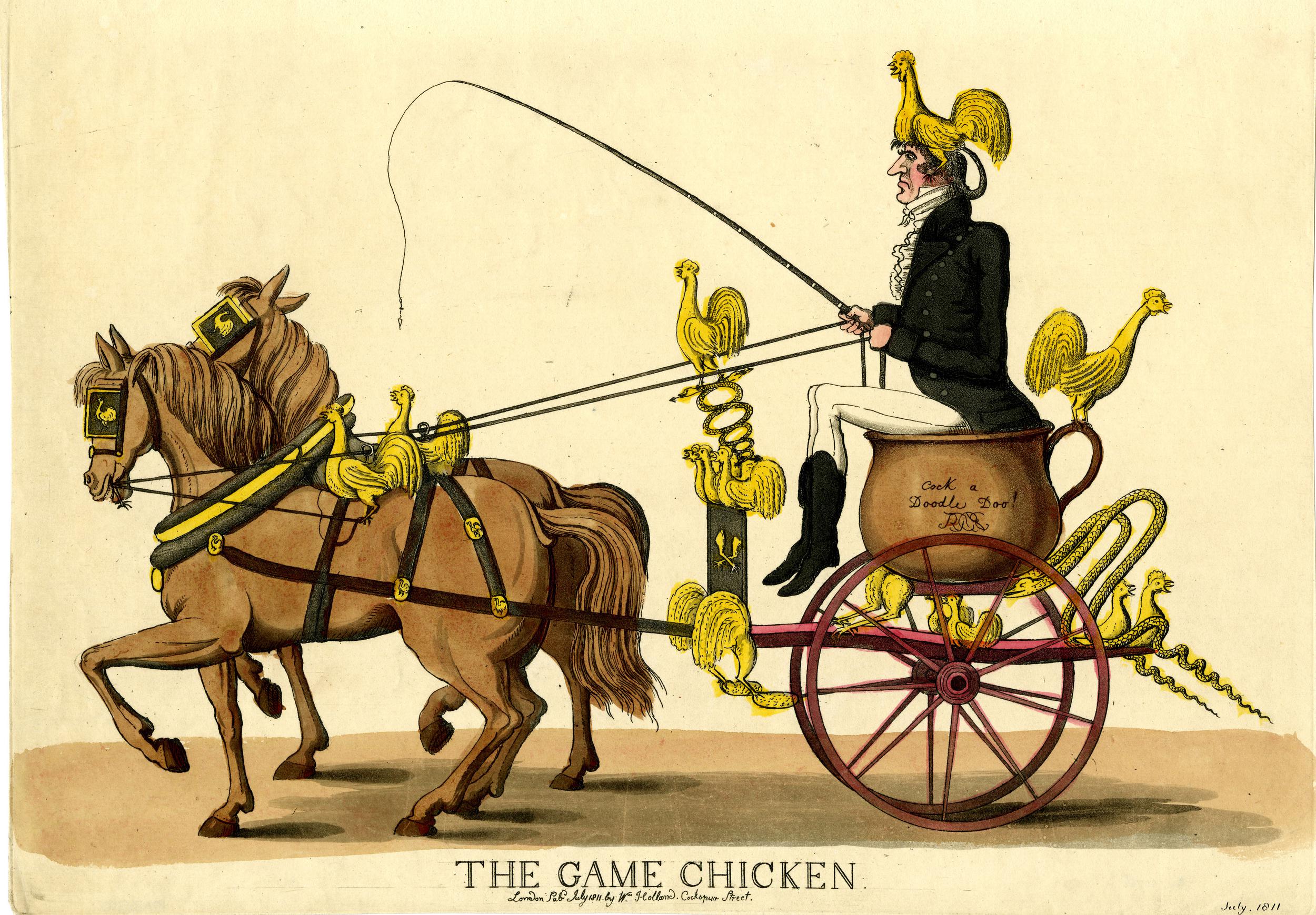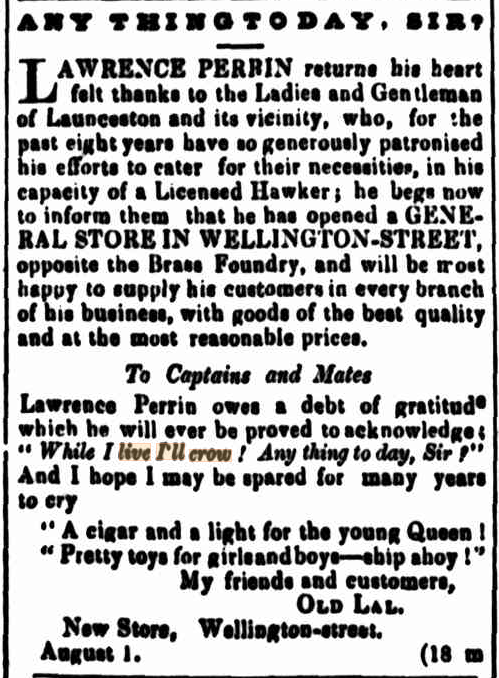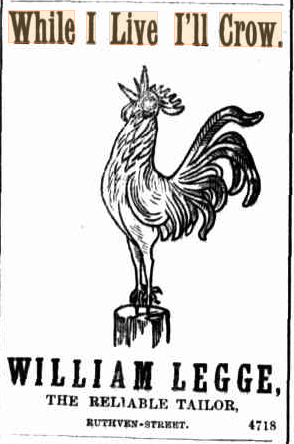 While I live I'll crow in Australia
The motto, "While I live I'll Crow" stuck in the minds of many people, especially those who had lived in London. Many in the 1890s would have some memory of Robert Coates who died in 1848, just as we remember actors who were well known in our parents' era, such as WC Fields (b 1880 d 1946), Humphrey Bogart (b 1899 d 1957), Charles Laughton (b 1899 d 1962), Charlie Chaplin (b 1889 d 1977), Joan Crawford (b 1904 d 1977), and Vivien Leigh (b 1913 d 1967)
Isaac Israel was about 10 years old when Coates died. His parents and older siblings would have had a stronger recollection of him and may have passed on stories about him.  This may apply also to others who borrowed his motto.  Similarly, many of us have quoted famous lines from well before our time in famous movies, such as, "Frankly my dear, I don't give a damn" (Gone with the Wind 1939), or "The stuff that dreams are made of" (The Maltese Falcon 1941).
One example of the actor being remembered well after his death was in the Sydney Mail and NSW Advertiser6
"My father was very fond of company and late dinners… Amidst his numerous guests was one "Romeo" Coutts [sic]… The crest on this eccentric individual's carriage – a showy useless vehicle – was a cock crowing, with the motto, "While I live I'll crow. His vanity was excessive; he made himself famous by playing Romeo, and exhibited his folly in most provincial towns, Bath not excepted. His fame reaching London, he was invited to give a performance at Drury Lane. His well known eccentricity attracted a crowded house; many of his speeches elicited laughter and ironical applause, but the climax of absurdity was reached in the death scene, on his final fall – the applause was ironically tremendous. He mistook it for genuine admiration, and, spreading out a handkerchief to protect his finery, he actually gave his death over again, and the curtain descended amidst cat-calls and convulsive laughter".7
In August in 1850, the Cornwell Chronicle (Launceston Tasmania), Lawrence Perrin advertised that he had now opened a general store in Wellington Street … [he] "owes a debt of gratitude which will ever be proved to acknowledge While I Live I'll Crow".
Closer to home, the Newcastle Chronicle of 31 July 1875 advertised, Cheap Jack's Bread, with the rooster motto.
In September 1886 on page 1, the Moreton Mail (Queensland) advertised the wares of an importer, exhibitor, breeder and dealer in high class poultry in Roma Street, Brisbane.8
William Legge, a tailor in Toowoomba Queensland9
Alf Levy, Palace Cigar Divan of Palace Hotel Buildings, Hannan Street, Kalgoorlie, Western Australia, in an advertisement10 used the rooster and the motto.
Family and retail networks in Sydney at the second half of the 19th century
There seems no doubt that all the members of the various Israel families in Sydney knew one another, even if they were not distantly related.  The extended Israel family would have known many other retailers in Sydney.
They certainly would have been aware of the Hordern & Sons store at 756 George Street (as listed in the 1877 Sands Directory). Anecdotally, Isaac and Israel were friendly with Mick Simmons and his family. They ran the Mick Simmons store which was at the time on the corner of George Street and Campbell Street, that is, 728 George Street, according to the Sands Directory of 1885, and today's Google Maps.  Mick Simmons' store would have been near Israel Israel's tent and tarpaulin shop at 712 George Street (1877 Sands Directory) and Isaac Israel's Emporium on the corner of Goulburn and Sussex Streets.  The original Mick Simmons store sold tobacco. His family kept the business going after his death with the shop selling a general range of goods, including sporting goods. In more recent years it is no longer in the ownership of the family, but the business continues and is well known as a sports goods store. It still operates, but at 466 George Street, Sydney (near the Queen Victoria Building). Their website says that they have been in business since 1877.  Mick Simmons was also a city alderman at the time of his death in December 1894. His funeral was well attended by many of Mick's family and friends, including the Mayor (Sir WP Manning), nineteen aldermen, the Town Clerk and many other Sydney luminaries.
Joys and heartache
After Isaac established his business at 14 Goulburn Street, next door to his later shop on the corner of Goulburn and Sussex Street, Isaac married Catherine (Kate) Dineen11. They had two children, Rachel and Benjamin. On 24 June 1872 a fire broke out in Isaac and Kate's shop. Isaac managed to extinguish it before it took hold, which was very lucky as he was not insured. The jury at the coroner's inquest eventually determined that "certain person or persons unknown to them had feloniously and maliciously set fire to the premises occupied by Isaac Israel and situated at No. 14 Goulburn Street."12. Isaac offered a reward, as did the Police.  No record of finding and arresting the arsonist has been found.
The Sands Directory shows that Isaac's early shop (first entry in Sands Directory13 1869 for 1867 or 1868) was not right on the corner of Goulburn & Sussex Streets, but next to the corner store, Gogerty's the grocer (this is confirmed by the newspaper reports of the fire).  Later he moved to the corner of Goulburn and Sussex Streets.
Catherine Israel died in February 1879. In August 1879 Isaac married Julia Israel (1842-1909), the daughter of Isaac Israel (1810-1879) and Elizabeth Jones (1811-1865).  This second Isaac Israel lived and worked in Maitland.  His brother was Israel Israel (1814-1898), a tailor of 595 George Street, Sydney who in the Sands Directory of 1865 was described as a clothier and outfitter. Around the same time, he is also described in the Sands Directory as a tent and tarpaulin maker. The 1851 England census shows Israel Israel, wife and son at 66 High Street, Whitechapel.  The two families may well have known each other as Isaac (the Emporium owner) and his family lived at 18 Petticoat Lane Whitechapel, according to the same census.  It is possible they were distantly related.  Israel Israel with wife Flora and young son Charles emigrated to Sydney, arriving on 7 July 1853 on the ship Albemarle.14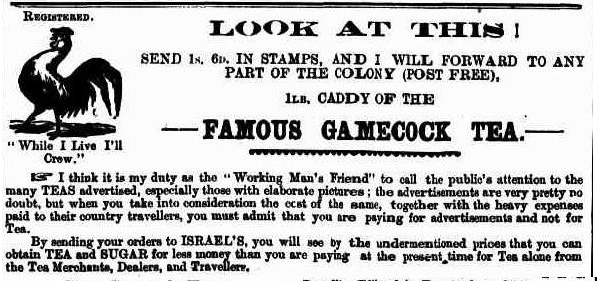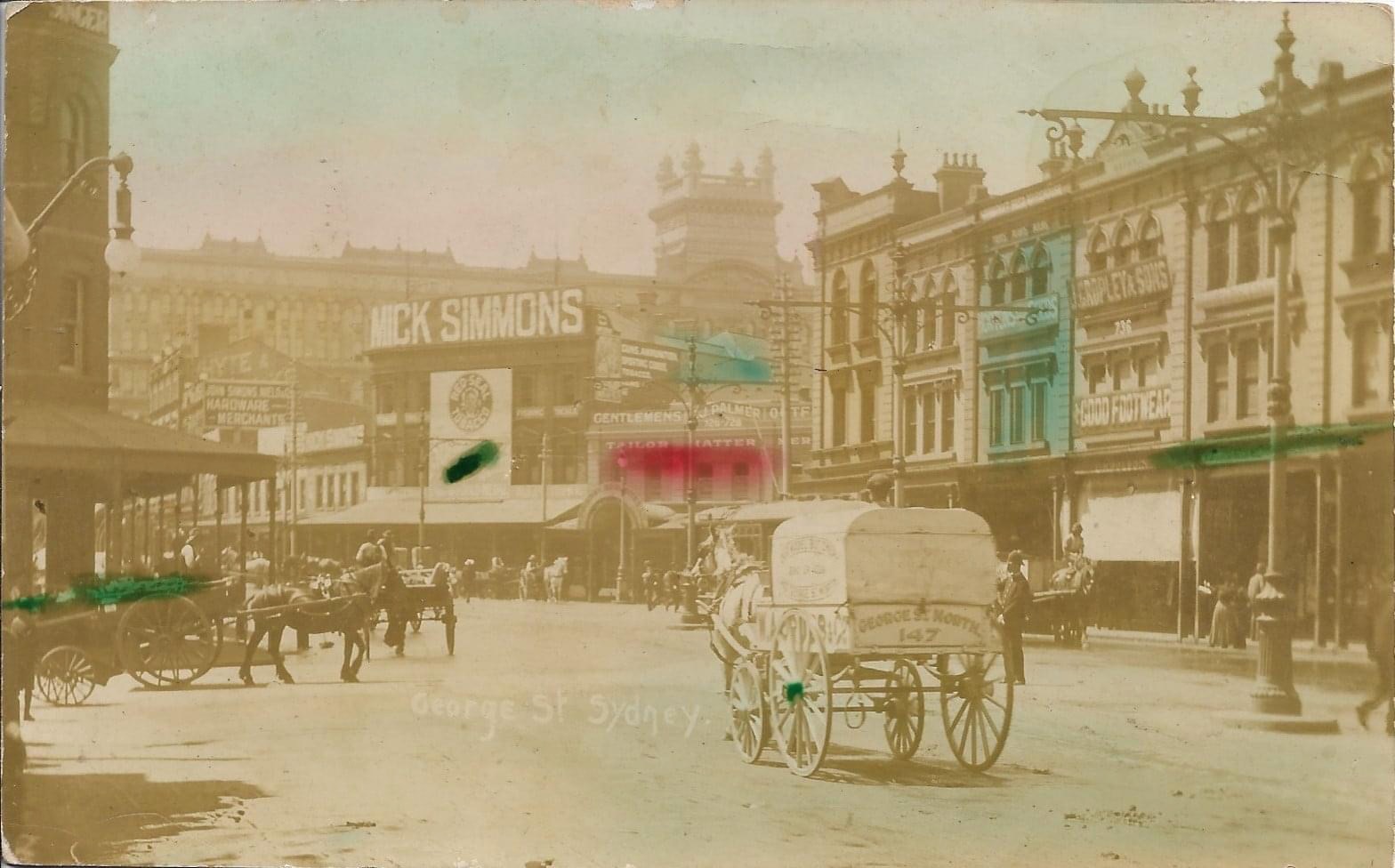 Isaac Israel's Emporium in its golden era
From 1879 to about 1889 very little about the emporium on the corner of Goulburn and Sussex Streets seems to appear in the newspapers.  The next appearance that can be found is an advertisement in the Illawarra Mercury on 19 September 1889.  It is for the Bonus Tea Warehouse. It says, "LOOK AT THIS! The Working Man's Store and Poor Man's Friend".  The advertisement goes on to list numerous items – tea, milk, starch, cornflour, rice, cocoa, jam, sago, tapioca, vinegar, sardines, mustard, soap, pearl barley, split peas, green peas, curry, capers, salad oil, currants, plums, candied peel, hops, coffee, knife polish, compressed corned beef, kerosene – to name just some of the items. All orders were to be accompanied by a PO order or cheque.  The advertisement advised that, "Country orders carefully packed and delivered to Sydney Railway Station, or Vessels free of charge". What more could anyone want?
The Israel Emporium appears to have flourished despite the 1892-1893 depression in New South Wales, which is said to have been a deeper depression than the 1930s.  The business did not go bankrupt, in fact, Isaac managed to maintain a thriving business in the growing city, despite the 1892-3 depression.  The "Evening News" of 21 December 1892 on page 3 had an advertorial saying, 
I ISRAEL GOULBURN STREET. While many tradesmen are bewailing the hard times and the prevailing depression Mr Israel finds himself positively unable to keep pace with the demand of his customers, although he has engaged a large number of extra hands, the country trade is particular being very large. Groceries of every description and of the finest quality are being hourly scattered broadcast among purchasers, English hams and Christmas cakes receiving special attention. "You wouldn't think such a business could be done in a back street", says Mr Israel (who is called the working man's friend and deserves the title), but I manage to fascinate people", and he does.
The land records point to Isaac being a canny investor in land. He leased his premises from 1867 to 1891. Whilst he continued to lease the premises at 16 and 18 Goulburn Street from the Trustees of Redmond's Estate, on 6 June 1901 he bought 20 and three-quarter perches (approximately 525 square metres15) on the corner of Sussex and Goulburn Streets.  In July 1902, Isaac made an application to bring the title of his property under the Provisions of the Real Property Act 1900 which resulted in converting the title of the premises on the corner of Sussex and Goulburn Streets to the Torrens system of land records. The new title reference was Volume 1424 Folio 203.  He kept his ownership of the land until 27 September 1905, when he transferred it to his wife Julia and his son Benjamin. There seems to have been some succession planning. Isaac also owned one rood and 20 and three-quarter perches of land in Surry Hills, described in his deceased estate file as "358 to 362 Crown Street and 1 to 5 Clifton Reserve".
Meanwhile, the business continued to thrive.  The Australian Town and Country Journal, 12 August 1903, on page 34 advised that Mr Isaac Israel JP
Who has commodious bulk stores in Sussex Street, commenced business fully 35 years ago in a very small way in a little shop in Goulburn Street, Sydney. From that small beginning he has worked his way up fortune's ladder, till now his business covers grocery, crockery, clothing, boots, bedsteads, ironmongery, drapery, enamelware and furniture. The expansion of business has recently caused him to add a wine and spirit department. The secrets of Mr Israel's success are his probity and perseverance…
The City of Sydney Rates Assessment Book of 1907 lists Isaac Israel as owner of 392/394 Sussex Street, a property described as a store, built of brick with an iron roof with four floors and four rooms. The Assessment Book states that Isaac Israel both owned the property and was "rated". The record states "Here Goulburn St", so it was on the corner of Goulburn and Sussex St. Another property belonging to Isaac Israel is shown at 21 Goulburn St, which is also on the corner, as the Assessment Book says, "Here Sussex St". Whilst the land records say that the property belongs to Julia and Benjamin Israel, the document states otherwise: the owner is said to be Isaac Israel. The person "rated" is Robert Creasy. The property is described as a hotel.  Built of brick and iron it consisted of two floors and 12 rooms.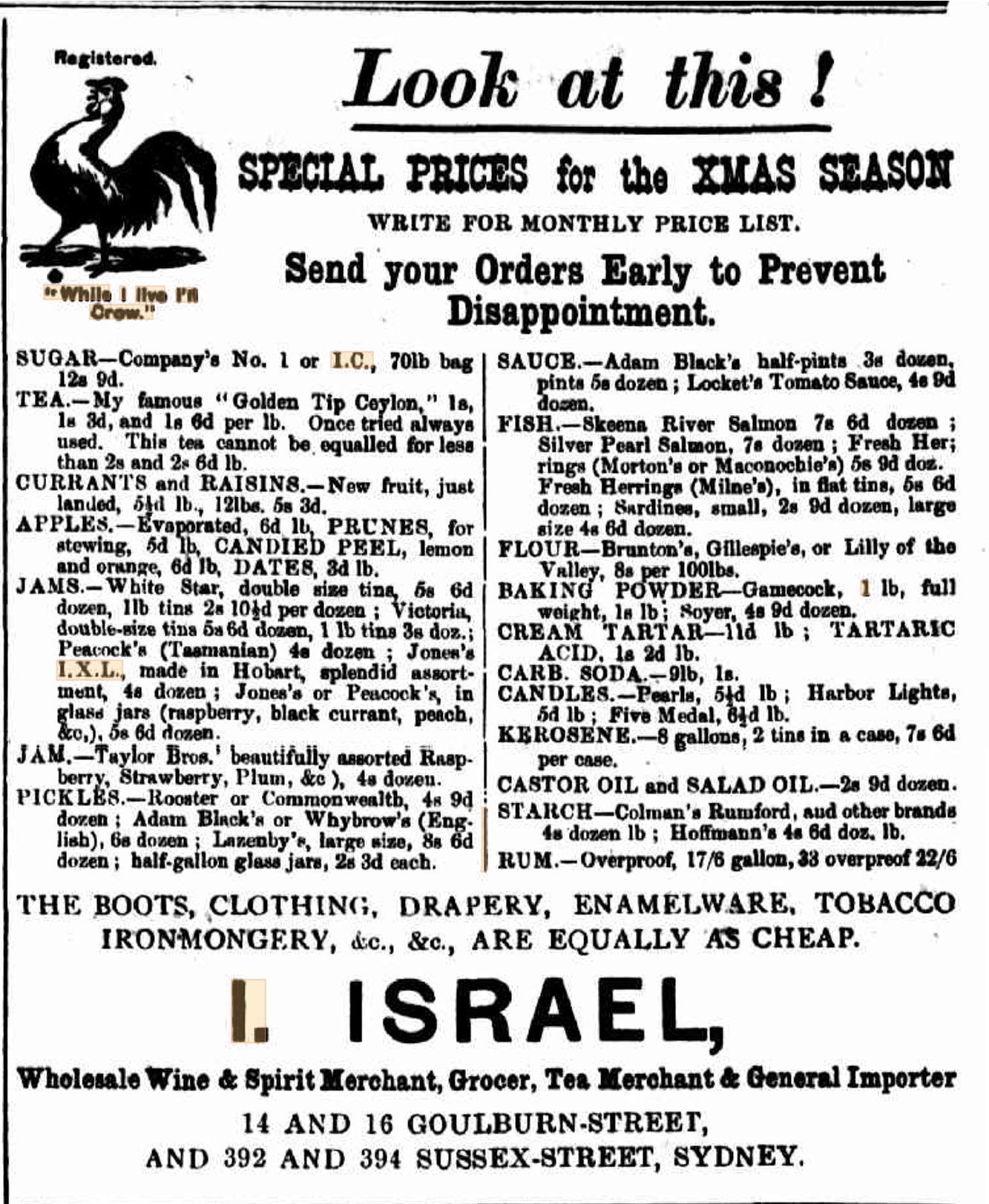 Isaac died on 9 January 1909. His obituary in the Hebrew Standard16 says that Isaac was
Very well-known and very highly respected in commercial circles, and was noted for his honourable business dealings. His kindly and jovial disposition made him popular with a wide circle of friends. Mr Israel was a liberal donor to many charitable institutions and his unostentatious beneficence in other directions will make his name revered by the many whom he has befriended.
For the time being, the emporium kept going. Advertisements in many Australian newspapers said that "the business so successfully conducted by the late Isaac Israel" would be continued by Benjamin and Albert Bernhard Israel, and the same "strict attention will be paid to all country orders in future as during the past 48 years…"
Isaac's deceased estate file 17 shows the extent of his country orders. Just one page of the lengthy list of debtors and creditors shows customers from Portland, Kew, East Kempsey, Lismore, Maclean, Leets Vales, Long Flat, Wattamondara, Elizabeth St., Sydney, Gulargambone, Tuggerah Lakes, Eurobodalla, Exeter, Cobar, Delegate, Forster, and this is repeated over many pages.
Isaac's deceased estate file contains a letter from David Fell & Co., Public Accountants and Auditors to to Messrs Cape, Kent and Gaden, dated 22 April 1909:
Dear Sirs
Isaac Israel dec'd
With respect to the value of the goodwill of the late Mr Israel's business, as carried on at Goulburn & Sussex Sts, prior to his death, we should have based an estimate on an average of three years' net profit, viz. £1,044/3/9. To arrive at an average, we have taken net results for ten years back from the books, which were written up by us. After Mr Israel's death the value of the goodwill was nil. The business was built up by his personal efforts, and we doubt whether anyone else can fill his place…
Nevertheless, Israel's Emporium continued for another five years. Anthony Horderns had become a behemoth, and it was on the doorstep of the comparatively small Israel grocery emporium.  These clearly were not enough. This is despite the efforts of Benjamin and Albert who attempted to make great efforts in advertising the Israel Emporium's wares in newspapers across NSW, and continue with the business. Certainly the auditors thought that without Isaac at the helm, the business goodwill was worthless. The unfortunate truth is that the Sydney retail industry had changed significantly since Isaac established his first small grocer's shop in 1847. Shops had become bigger, and the concept of being able to go in and browse (and not buy anything) – unheard of in 1847 – was the norm by 1914. Many country towns now had big grocery stores. The family tried to fill Isaac's shoes but the world had moved on from 1867. It was approaching 1914 and World War I was looming. Israel's Emporium finally closed its doors forever just five years after Isaac's death.
The Government Gazette of 24 June 1914 published the resolution of Members of the company I Israel Limited that
It has been proved to the satisfaction of [the Members of the Company] that the Company cannot, by reason of its liabilities continue its business, and that it is advisable to wind up the same, and accordingly … the Company wound up voluntarily…
Robert Coates, the bad actor of the Regency era is almost entirely forgotten. There is a book about him in the the State Library of NSW18. The rooster that crowed for Robert Coates and Isaac Israel has also gone by the wayside.
Israel's Emporium survived and indeed thrived for 47 years, arguably on the strength of Isaac's personality, probity and perseverance.