Henry Curzon Allport is known for his paintings and sketches, some of which can be found in the Mitchell Collection of the State Library of NSW.  Also, there is a very good biography of him by Kevin Fahey on Design & Art Australia Online.  It is worth reading1.
Here are some focal points of this biography:  
Henry Curzon Allport (6 February 1788 – 2 December 1854) was
A watercolourist, art teacher and property agent;
Contemporary and pupil of John Glover;
Elected to the Old Watercolour Society in 1818;
The artist who painted "Conway Castle", purchased by the British Museum in 18192
Engaged in the wine trade after about 1823. (The British Museum notes: 'his surname was one to give colour to the rumour').
An immigrant to New South Wales in 1839, with his wife Bertha Betts and children; and
Recognised around 1847 as a valuable member of the artistic circle that met regularly in Sydney.
Also, Henry Curzon Allport was, for an unknown length of time, Edward Macarthur's property agent.  He managed the Macarthur estates at Parramatta and Pyrmont3 that had been established in the earliest days of the colony of New South Wales by John and Elizabeth Macarthur, and later inherited by their eldest son Edward, regardless of the fact that he lived most of his life in England.  
This article attempts to put forward some information about HC Allport's life, pieced together partly from genealogical records and newspaper clippings but mostly from the paintings and sketches that are in the Mitchell Collection of the State Library of NSW.
Apart from Henry's artistic activities, not much about him has hitherto been published.  From 1823 until his departure for New South Wales in 1839, he earned a living partly as a wine and spirit merchant, and partly as a commission agent. One fact has emerged: on 2 October 1835, Henry Curzon Allport, Wine & Spirit Merchant & Maltster was declared bankrupt4. The 'Bankrupt Directory of 1820-43' notes that he was later 'a commission agent of Lansdowne Place, Middlesex and of Bread Street Hill, City of London'.
Henry and his second wife Bertha Allport née Betts (1807-1885) and their children arrived in Sydney on the Augustus Caesar on 1 April 18395. Fahey notes that
Following their arrival, the Allports settled at Botany and visited Port Macquarie before establishing their residence at Concord Point on the Parramatta River. For a time Allport was employed by the Australian Agricultural Company at Goonoo Goonoo …6  (See also the website for Goonoo Goonoo Station)7
The Allports' record of arrival on 1 April 1839 states that the couple had ten children8. This is incorrect. At the time of their arrival the Allports had six children: William Edward age 12, Bertha Betts age 11, John Ireland age 10, Henry Curzon (junior) age 9, Catherine Davison age 5, and Frank age 3.  Three more daughters were born in NSW of whom two survived infancy: Clara Lucilla, born in 1843, and Florence, born in 1845. 
Henry Curzon Allport's brother, Joseph Allport, is well known in Tasmania. He was the progenitor of the very wealthy Allport family of Tasmania. 'The Allport bequest [to the State Library of Tasmania] remains one of the most generous in Tasmania's history'9. As far as can be ascertained, Henry did not visit Joseph in Tasmania.
Henry Curzon Allport, Bertha and their family visited Port Macquarie in July 1839, just three months after they arrived in NSW, and it is possible that during their stay they would have enjoyed a family reunion with Bertha's sister Emma and her husband, Enoch William Rudder, who had settled about 50km to the north at present-day Kempsey in 1836. Emma Betts had married Enoch in 1824 in Birmingham, England, and after emigrating to NSW in 1834, within two years the couple had moved with their large family to a property on the Macleay River. Rudder had bought Samuel Onions' grant of 812 acres, 'and on this transaction is built up the history of Kempsey'. Rudder is often called the 'Father of Kempsey'10.
When the Allports visited Port Macquarie, Henry Curzon Allport drew the five sketches of the area that now reside in the State Library of NSW11. One of them is reproduced below:
By 1841, the NSW census of that year records Henry Curzon Allport living at Hunters Hill: a sketch by him of a neighbouring property in the district dated 1841 is shown below. The notation on the picture is: 'Hunters Hill: Residence of J Devlin Esq'12
To add to the possible places of residence of the Allports, there is a painting of a house named 'Kishnaghur' in the State Library of NSW13. It is labelled as 'residence of Mr Allport, Parramatta side of Ryde' There is no date on the painting. The area now is called the Dundas Valley. Kishnagur Archaeological Site is on the State Heritage Register14. The history given on the State Heritage listing says that, 'Kishnaghur was a notable house built by Captain Thomas Henry Baylis in 1836-1837'. The Thomas Henry Baylis referred to here was born in 1792 and died 24 February 1853, buried at Parramatta15. If the Allports lived at Kishnaghur, it would have been between 1841, when they were at Hunters Hill, and the early 1850s, when they were at Concord.  In 1854, their then 26 year-old daughter Bertha Betts Allport's diary records that the family moved to Elizabeth Farm from Concord: 'May '54. 1st. Papa & Mamma left Concord for Elizabeth Farm'16.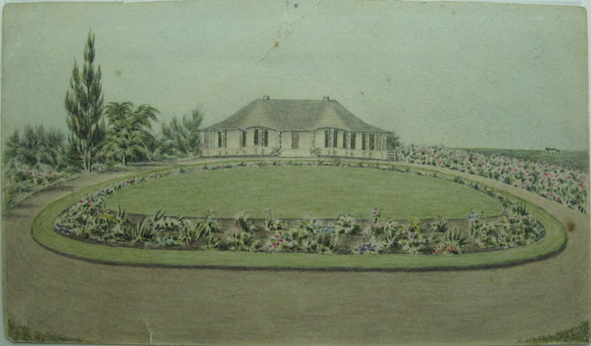 The sketches and watercolours that are in the Mitchell Library were almost certainly donated by Henry's last surviving daughter, Catherine Davison Allport (1834-1929). A letter dated 9 February 1914 from GH Gifford, Acting Librarian, records that 51 sketches were donated by Miss Allport17.
As an aside, here is a photograph of Catherine Davison Allport at 'Sherbrooke', the house where she lived at the time she donated the paintings and sketches to the Mitchell Library18.
Some of Henry's sketches and watercolours are annotated with locations and dates.  Whilst accepting the possibility of holiday excursions, they do offer some indication of where he and his family might have been living at the time. In July 1839 he sketched in the vicinity of Port Macquarie.  If Henry Curzon Allport worked for the Australian Agricultural Company at Goonoo Goonoo (which is near Tamworth), it must have been well before 1841.  By December 1840, he sketched the entrance of the Cook's River, Botany Bay and the residence of Mrs Bowerman, Kissing Point.  Between 1841 and 1842, he sketched an estate on South Head Road, Sydney, the residence of J Devlin at Hunters Hill and Sydney Harbour.  In 1842, he painted a watercolour of a settler's cottage, but no location was given. Could it be that this was painted from a sketch done in Kempsey? It is not certain but seems likely that the family visited Kempsey in 1839.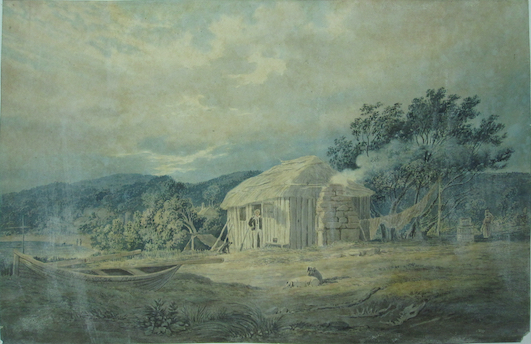 Some pictures of the Macleay River near Kempsey show a similar landscape, such as this:
In 1847, he sketched Looking Glass Bay, Parramatta River.  This is in the vicinity of Concord,
None of the other sketches and watercolours in the collection in the Mitchell Library is dated.  There are no sketches of Goonoo Goonoo.
After John Macarthur's death in 1834, many of his large property holdings were inherited by his eldest son, Edward Macarthur, who at that time was living in England, but also in Melbourne. Edward eventually appointed Henry Curzon Allport as his agent to manage the Macarthur properties in Parramatta and Pyrmont.  No doubt Henry was kept busy looking after the Macarthur estates. Once again, it is unclear as to when Henry started working for Edward Macarthur, but it must have been after 1840. In fact, it is most likely to have been for only two years, from 1852 to 1854, when Henry Curzon Allport died. There are two reasons for this supposition: Firstly, the Macarthur to Allport letters in the Mitchell Collection of the State Library of NSW only start in 1852. These letters were almost certainly donated by Catherine Davison Allport, their last surviving daughter. She was a collector of memorabilia, evidenced by the fact that she had Lady Fitzroy's sideboard, an exact duplicate of which is in old Government House, Parramatta19. The sideboard was passed on to the current owners of the house where Catherine lived at the end of her life. The second piece of evidence is the advertisement in the Sydney Morning Herald dated 1 September 1851, which refers to Purkis and Lambert as agents for collecting rent from Macarthur's Pyrmont Estate.
Bertha Betts Allport, Henry and Bertha's then 26 year-old daughter kept a diary between May and December 185420. The diary begins with their arrival at Elizabeth Farm and ends on 2 December of the same year, recording Henry's death. He died intestate. In the intestacy record, his goods were estimated to be valued at 'under £200'21. According to the Measuring Worth website, £200 in 1854 would be worth about $79,170 in 201922.
Henry Curzon Allport is not as famous as his brother Joseph who settled in Tasmania. He didn't make a lot of money. He was an artist at a time when it was not easy to have a comfortable living by one's artistic skills alone. He supplemented his artistic work with the work of a commission agent and forged a reasonable living for himself and his large family. He is part of the palimpsest that makes up the early history of NSW