Henry Curzon Allport is known forhis paintings and sketches, some of which can be found in the Mitchell Collection of the State Library of NSW. Also, there is a very good biography of him by Kevin Fahey on Design & Art Australia Online. It is worth reading1. A similar biography is available in "Dictionary of Australian Artists: painters, sketchers, photographers and engravers to 1870"2 Here are some focalpoints of this biography:
Henry Curzon Allport (6 February 1788 – 2 December 1854) was
A watercolourist, art teacher and property agent;
Contemporary and pupil of John Glover;
Elected to the Old Watercolour Society in 1818;
The artist who painted "Conway Castle", purchased by the British Museum in 18193
Engaged in the wine trade after about 1823. (The British Museum notes: 'his surname was one to give colour to the rumour').
An immigrant to New South Wales in 1839, with his wife Bertha Betts and children; and
Recognised around 1847 as a valuable member of the artistic circle that met regularly in Sydney.
Also, Henry Curzon Allport was, for an unknown length of time, Edward Macarthur's property agent. He managed the Macarthur estates at Parramatta and Pyrmont4 that had been established in the earliest days of the colony of New South Wales by John and Elizabeth Macarthur, and later inherited by their eldest son Edward, regardless of the fact that he lived most of his life in England.
This article attempts to put forward some information about HC Allport's life, pieced together partly from genealogical records and newspaper clippings but mostly from the paintings and sketches that are in the Mitchell Collection of the State Library of NSW.
Apart from Henry's artistic activities, not much about him has hitherto been published. From 1823 until his departure for New South Wales in 1839, he earned a living partly as a wine and spirit merchant, and partly as a commission agent. One fact has emerged: on 2 October 1835, Henry Curzon Allport, Wine & Spirit Merchant & Maltster was declared bankrupt5. The 'Bankrupt Directory of 1820-43' notes that he was later 'a commission agent of Lansdowne Place, Middlesex and of Bread Street Hill, City of London'.
Henry and his second wife Bertha Allport née Betts (1807- 1885) and their children arrived in Sydney on the Augustus Caesar on 1 April 18396.
The Allports' record of arrival on 1 April 1839 states that the couple had ten children7. This is incorrect. At the time of their arrival the Allports had six children: William Edward age 12, Bertha Betts age 11, John Ireland age 10, Henry Curzon (junior) age 9, Catherine Davison age 5, and Frank age 3. Four more daughters were born in NSW of whom three survived infancy: Alice, born about 18408, Clara Lucilla, born in 1843, and Florence, born in 1845.
In Sydney, the family settled at Botany before establishing their residence at Concord Point on the Parramatta River. By December 1840, Henry had sketched the entrance of the Cook's River, Botany Bay and the residence of Mrs Bowerman, Kissing Point. In 1842, he painted a watercolour of a settler's cottage, but no location was given. Could it be that this was painted from a sketch done in Kempsey? It is not certain but seems likely that the family visited Kempsey in 1839. Some pictures of the Macleay River near Kempsey show a similar landscape, such as the photograph shown to the right.
By 1841, the NSW census of that year records Henry Curzon Allport living at Hunters Hill: a sketch by him of a neighbouring property in the district dated 1841 is shown to the right. The notation on the picture is: 'Hunters Hill: Residence of J Devlin Esq'11 In June 1841, Henry had sketched "From the Estate of Mr A Davy, South Head Road".12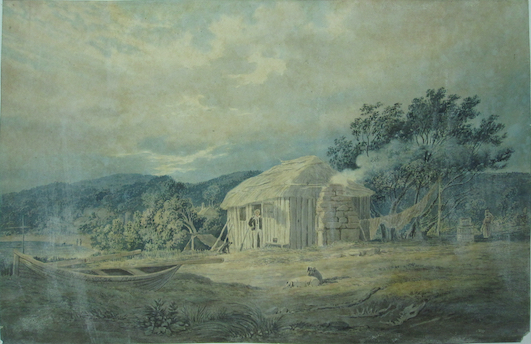 After the Allports left Elizabeth Farm they went to stay at a place called 'Denham Grange'.  It was definitely in the Dundas area: it was so NOT the Denham Farm (145-acre grant to Richard Atkins) and/or Denham Court (100-acre grant to same Richard Atkins).  Bertha Allport's diary makes several references to Denham, for example, '1863. Monday 19th Octr… in the morning Mamma, Clara, Alice and I went to Denham Grange'; 'Friday 30th [October] … Willie went Denham Grange'; 'Tuesday 1st Decr 1863 … Mamma, Alice and I walked to Denham'.21  They were walking from Elizabeth Farm to 'Denham Grange' and back many times before moving there.
On 1 January 1864, the family spent their first night at Denham.
Mrs Bertha Allport inherited a lot of money in 1864 or 1865. Mrs Allport was the daughter of an exceedingly wealthy man, John Betts (1776 – 1864). John Betts left an estate valued at £30,000 – millions of dollars in today's money. The will of John Betts left £2,000 to Bertha Allport nee Betts.22 Bertha Allport paid £750 for Kishnaghur.23 There is a painting of the house named 'Kishnaghur' in the State Library of NSW24. The box containing the painting of Kishnaghur has the notation, 'Residence of Mr Allport, Parramatta side of Ryde'. The Mitchell Library online catalogue says, "24. 'Kishnaghur – the residence of dear Bertha', 'Residence of Mr Allport, Parramatta side of Ryde' inscribed in pencil in a different hand below the ink inscription. [Bertha Allport (nee Betts) was H.C. Allport's second wife]. Unsigned".25
After Bertha died in 1885, her daughters inherited also, and the land records show they bought a lot of property around Parramatta and beyond between 1896 and 1900.26
The area now is called the Dundas Valley. Kishnagur Archaeological Site is on the State Heritage Register27. The history given on the State Heritage listing says that, 'Kishnaghur was a notable house built by Captain Thomas Henry Baylis in 1836-1837'. The Thomas Henry Baylis referred to here was born in 1792 and died 24 February 1853; he was buried at Parramatta28. The inscription on the back of the painting of Kishnaghur in the Mitchell Library suggests it is a work by Henry Curzon Allport, but it is very unlikely that this is correct. He died on 2 December 1854. Henry's widow Bertha Allport bought Kishnaghur for £750 on 6 December 1865.29 Bertha soon moved into the house and lived there for thirteen or fourteen years, according to a Statutory Declaration by James Stewart, a neighbour of the subsequent owner of the property, George Stevens.30 Perhaps some of her family moved to the house also. Henry Curzon Allport never lived in Kishnaghur. The picture of Kishnaghur was more likely painted by one of Henry's daughters who were capable artists: Catherine Davison (1834-1929), Alice (1840-1920) or Clara Lucilla (1843-1907).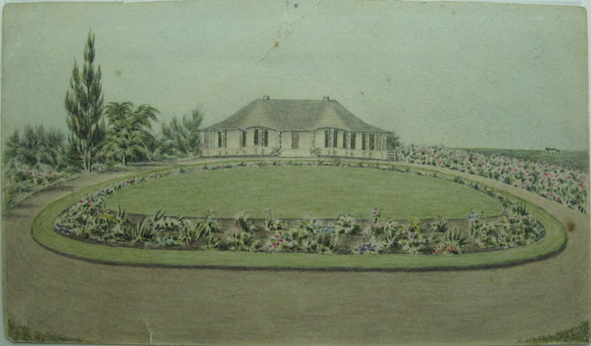 Henry Curzon Allport is not as famous as his brother Joseph who settled in Tasmania. He didn't make a lot of money. He was an artist at a time when it was not easy to have a comfortable living by one's artistic skills alone. He supplemented his artistic work with the work of a commission agent and forged a reasonable living for himself and his large family. He is part of the palimpsest that makes up the early history of NSW.